English and French 5ft king size Bedsteads ......
All the beds are priced as fully restored in your choice of colour... most are Photographed in their unrestored condition and awaiting restoration.. Most of the beds have an unrestored price too. Please Email for details on each bed.
Fully restored beds are stripped down, shot blasted, bare metal primed, re-painted and re-polished. Any brass work that is damaged beyond repair is replaced with antique brass if available or solid brass restoration parts. Any damaged cast iron or metal work is always professionally welded. All the beds have minor knocks and bumps to the metal and brass which adds to their charm.
Any bed can be finished in almost any colour of your choice, like any of the Farrow and Ball Oil Eggshell colours for example.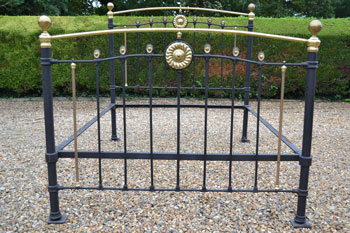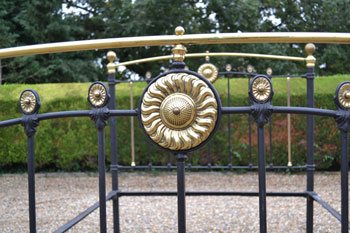 Lovely late Victorian brass and iron king size 5ft bedstead with larger 2 inch posts, small oval discs and large central sunflower discs on head and foot ends . The bed was professionally restored and widened in the past but is now ready for restoration again in your choice of colour.
Fully Restored Price £1295