Southmill Cottage

Norfolk Holiday Cottage available to let

Our cottage is located in picturest open countryside near the small village of Shereford . We are ideally situated for the beautiful beaches of the North Norfolk Coast, Sandringham, Houghton Hall, Pensthorpe Waterfowl park and lots lots more. The cottage has been very recently fully renovated and has a mixture of antique and contemporary furniture with a fully fitted kitchen. Prices start from £315 to £525 per week, short stays are available. A welcome pack including tea, coffee, sugar, milk and locally baked bread is supplied.

Please feel free to Email or call Tim on 07787787867

We are in the process of building a website but you can click here for more information, availability and booking.
Contact Details....
Email........... tim@coast-to-country.co.uk
Mobile......... 07787787867
Evenings.......01328 851161
Payment Methods...
BACS (Bank Transfer)
Secure card payment online
Cash if you are collecting in person.
Buying a Bed....
Once you have chosen a bed. If the bed is to be restored, you have the choice to pay a deposit of £100 and the balance when the bed is finished or the full amount up front. On unrestored beds the full amount would be paid, as these are normally almost ready to be shipped.. I only start work on the bedstead once a deposit or full payment is received.
The bed can be painted in almost any colour .. I colour match the colour you choose in a tough oil eggshell suitable for metalwork . If you choose a less commonly used paint , I will need a sample on paper or a paper colour swatch to get a colour match in the paint I use. Please note, if the colour swatch is in matt, the oil eggshell can look richer in colour .. Im happy to post a Farrow and Ball colour chart to you after cleared deposit. The farrow and Ball colour chart has a good range of colours.
Please note .. After agreeing to a payment time for the deposit. I will only reserve the bed for two days after that time .. If the deposit is not paid within the two days the bed will be re-offered for sale.. Unless alternate arrangements have been agreed.
Delivery....
Local delivery is free of charge ( Maximum 25 miles from Fakenham, Norfolk).
Delivery to England and Wales is £65 for the first item, then £35 per item to the same address.
Scotland and Ireland please email your postcode or town for a quote.
I only use Profesional Antiques couriers and also deliver myself. The couriers deliver in different zones each day. They will contact you direct regarding your delivery day. It is your responsibility to be there to meet the driver on the delivery day. It is a one man delivery service, for larger items help may be needed to unload.
Restoration normally takes around 3 weeks.
Delivery normally takes around 2 weeks but due to changing delivery slots, this could be a little more or less. I like to get your bed delivered in 5 weeks, sometimes this is quicker depending on the type of bed and if you are a local buyer..
I will bubble wrap and label your item, it will also be blanket wrapped by the delivery company. If you would prefer to use your own courier, I would be happy to liase with them or you are more than welcome to pick up in Person. To check the distance and get directions, try the AA Route Planner website for a free distance check, route map and directions AA Route Planner , we are located in Fakenham, Norfolk.
Where are we.....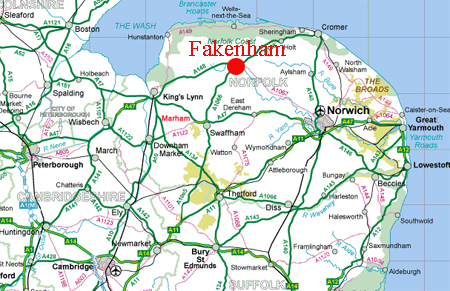 We are located in the small market town of Fakenham, Norfolk. Viewing by appointment only. If you do decide to view any of the items, we are very close to the Beautiful North Norfolk Coast, Sandringham and Holkham.